---
BEYOND SOCIAL

City Social magazine provides a monthly profile of people and places in southeast Louisiana. This full-color publication keeps residents up-to-date on social events, community trends, local artisans, nonprofit and community events, food, fashion, fitness, and health from Baton Rouge to the surrounding areas.

---
---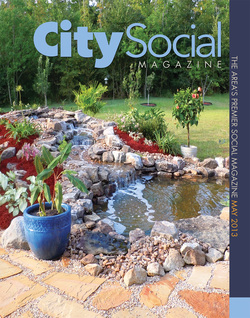 Harb's Oasis Presents Its Annual Tour of Ponds
Homeowners Welcome Visitors to Share the Beauty of Water Gardens
The wonders of water have been praised and penned in prose and poetry since time began, not for just its life sustaining properties, but for its sheer mystery, beauty, capacity to soothe, and ability to inspire as it did for one couple as they sought to create a tribute to a son they lost.
Fourteen years ago, Charbel Harb, owner of Harb's Oasis, attended a Water Garden Society seminar in Chicago and learned that pond tours were very popular around the country with as many as 100 private ponds on display.
"I felt that this would be a great opportunity for the Baton Rouge area if we could generate interest in water gardens and, at the same time, serve as a fundraiser for various charities through ticket sales and sponsorships," said Harb. "All of the money derived from the annual tour has always been dedicated to worthy endeavors; funds from our first tour were awarded to the Susan G. Komen for the Cure Foundation, and in subsequent years benefited Woman's Hospital, Hilltop Arboretum, and this year, Brave Heart."
Read the entire article online.
---
---
Contact us at 225.292.0445 or 888.475.2489
You can email us at info@citysocial.com
4415 S. Sherwood Forest Blvd., Suite C • Baton Rouge, LA 70816